SMT & BGA Rework and Repair
We have all the tools and equipment including hot air stations, dark infra red stations as well as a variety of optical inspection equipment that allow us carry out the most complex rework to the highest standards. We are qualified rework instructors with IPC certification.
Our facilities are equipped with the top-of-the-line BGA rework systems and a team of engineers with in-depth know-how and experienced in performing complex BGA rework operations which is why we can provide solutions for all your BGA rework and repair needs. Our range of BGA related services includes:
BGA component removal
BGA replacement and salvage
Circuit pattern design changes at BGA sites
Repair of lifted or missing BGA pads
Repair of solder mask at the BGA sites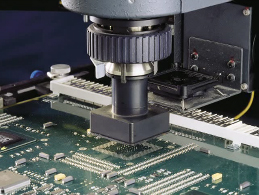 The greatest challenge in rework is to safely remove an SMD without inflicting damage to the board or adjacent components. The Electronic Services team of engineers has the expertise and capability to provide expert rework, repair to PCBs using our state of the art equipment and ensuring the work done on your PCBs will be done in a timely manner, correctly and reliably.
Our engineers have successfully performed numerous surface mount and BGA pad repair operations. The process involves replacing damaged pads with specially fabricated, adhesive backed pads which are thermally bonded to the board surface and we can source virtually all different sizes and shapes of replacement pads.
Rework Services we offer:
Plated Thru-Hole
BGA Reballing
SMT (QFP, PLCC, Chip Style, LCC, SOP)
SMT Fine Pitch, Ultra Fine Pitch
PBGA, CBGA, Micro BGA
Flip Chip
Pin Grid Arrays
Connectors
PCB Repair Services we offer:
SMT Pads, Traces
Laminate & Mask Repair
Jumpers, Wires
Broken Corners
Gold Fingers, Plating
Edge Connectors
Multi-Layer repair
SMT Repair
Electronic Repair Ireland have the ability to repair PCBs to original condition in a way that is also cosmetically acceptable using advanced technology and based on years of experience in repairing SMT assemblies. We can provide for a variety of SMT repairs such as trace, pad, eyelet, corner, laminate, coating, solder mask as well as other SMT repairs.